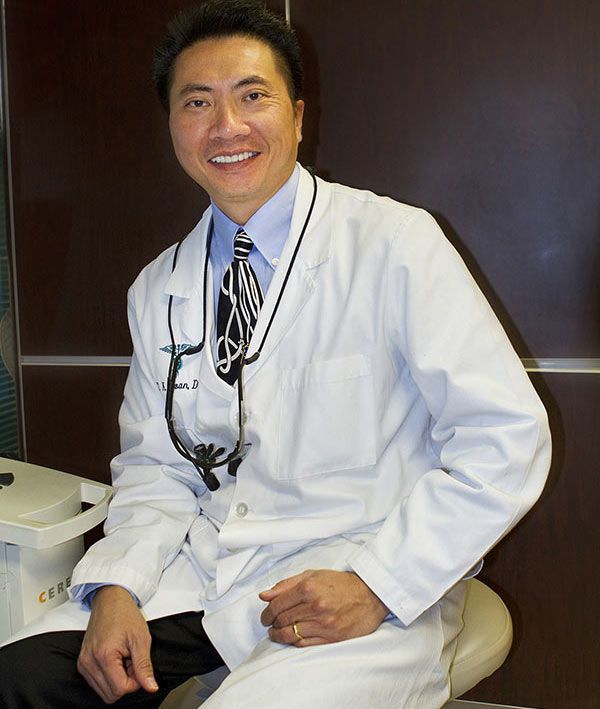 Dr. Trung Doan
Dr. Doan has been a resident of Orange County for since the early 80's and has been practicing dentistry here since 2000. Dr. Doan received his undergraduate degree in Information and Computer Science from the University of California at Irvine (UCI) in 1988, and his dental degree from the University of California at Los Angeles (UCLA) School of Dentistry in 2000.  Although Dr. Doan practices general dentistry, his practice emphasis and passion are in restoring his patients' smile and function utilizing dental implants.  From replacing a single missing tooth to full-mouth reconstruction, Dr. Doan has successfully restored thousands of patients back to dental health with implants.
Dr. Doan is a Lumineers® certified dentist.  He affiliates with many dental organizations such as the American Dental Association (ADA), the California Dental Association (CDA), the Orange County Dental Society (OCDS), and the Academy of General Dentistry (AGD).
Dr. Doan is active in community services. Since 1993, Dr. Doan has been a volunteer with the Social Assistance Program for Vietnam (SAP-VN), a non-profit organization whose primary objective is to provide direct relief to poor and needy people, especially orphans and handicapped children, mainly in health care, education and social welfare. Since 2003 he has been serving as a member of the board of directors of SAP-VN. Since 2002, he has been in charge of organizing annual medical mission trips to the rural areas of Vietnam, providing primary medical and dental care to people who cannot afford even basic treatments such as antibiotics or dental extractions. Dr. Doan participated in the Remote Area Medical (RAM) Volunteer Corps several times when it came to Los Angeles (RAM LA). He provided externship to dental students from the University of Boston, and mentored pre-dental students from UCI who sought career in dentistry.
Dr. Doan and his wife, also a dentist, and their 2 daughters, Britney and Nikki, live in  Irvine, California. He is an avid cyclist, photo enthusiast, and a certified SCUBA diver.